Repairing a Water Tank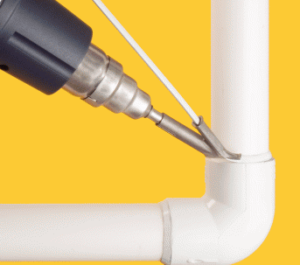 Repairing a Water Tank makes sense as does the repair of many plastic items. If it is too good to throw away, too expensive to replace or perhaps too hard to source as the item is not made anymore then it is certainly worth fixing.
Plastic is everywhere these days and many plastics can be repaired simply by being effectively welded.  It's handy to know that you may have a choice to repair something if it breaks rather than just replacing it and sending it to landfill.
Damaged water tanks should be considered for repair as this process carries much more relevance and importance than the option of simply being replaced. We offer a range of methodologies to repair your plastic tank and offer our services in a way that provides you the best overall solution.
Water tanks are expensive to replace and, unless the damage is beyond repair it is usually worth fixing them. For example consider the cost of replacing a large poly water tank.  A 5000 gallon (23,000 litre) tank usually retails for around $3500. If you needed to replace it not only are you up for the cost of repair  but other costs may include removing the old tank, dumping fees and plumbing the new tank in.  The total cost can quickly escalate so, even if you have to spend several hundred dollars to have the existing tank repaired you would still be a long way ahead. The thought of sending plastic to landfill should also be considered from the environmental perspective.
Items commonly repaired by Fix a Tank Queensland include:
Large household water tanks
Odd shaped water tanks
Rural water tanks
Crates
Canoes and kayaks
Poly boats
Why not CONTACT US to see how much we can save you in monetary terms and peace of mind.
We cover a wide area of the greater Gympie region and the Sunshine Coast.