Plastic Tank Welder  – Effective and Efficient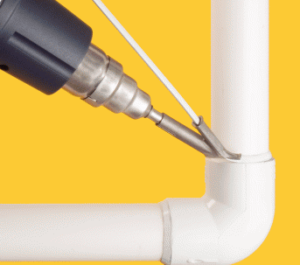 Plastic tank welder – Large poly plastic water tanks are often found in rural areas as well in modern urban homes. A poly storage tank, like any plastic container, can crack. This usually happens in the wintertime when the plastic gets brittle from the low seasonal temperatures. While the plastic water storage tank is in this brittle condition, the plastic can crack and break. We can use modern techniques and technology to repair your tank, a service that will save you thousands of dollars through not having to replace the tank.
Water tanks are expensive to replace and, unless the damage is beyond repair it is usually worth fixing them. For example consider the cost of replacing a large poly water tank.  A 5000 gallon (23,000 litre) tank usually retails for around $3500. If you needed to replace it there are other costs as well. These costs may include removing the old tank, dumping fees and plumbing the new tank in.  The total cost can quickly escalate so, even if you have to spend several hundred dollars to have the existing tank repaired you would still be a long way ahead. The thought of sending plastic to landfill should also be considered from the environmental perspective.
Welding for Damaged Irrigation Pipes – Saves you Money
Polyvinyl chloride (PVC) and polyethylene are the two most common types of pipe used for traditional irrigation systems. Cross-linked polyethylene, or PEX, pipe is another product making its way into the irrigation industry. What happens if you tractor damages the pipe? Do you replace it? Why not use our plastic welding to repair the pipe and maintain its structural integrity.
No matter how big or how small the job is we will come to you and provide a cost effective solution to repair your damaged tank. We repair plastic/poly tanks, plastic water tanks, domestic tanks, commercial tanks, slimline water tanks and much more. Our fully equipped  mobile unit allows us to travel to the job. City or rural area, we come to you. Our mission is to provide prompt, friendly service to all our clients with high quality workmanship assured and that is why we get many jobs from "word of mouth" referrals.
Why not give us a call or CONTACT US using our online contact form and we will provide prompt and courteous reply.