Poly Tank Repairs – Fix a Tank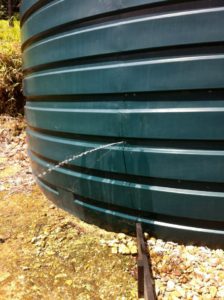 Fix a tank are expert plastic welders and are your experts in poly  tank repairs. Fix a tank know tanks and are your local experts in water tank repairs. Whether it is to repair a leaking poly rain water tank, slimline water tank or any pvc water tank, Fix a tank have it covered.
We are an independent water tank repairs specialist and do not sell rain water tanks. We are not biased towards any brand or supplier so our advice and service offered is untainted and totally independent. This stands us apart from many water tank repair businesses.
Normally your damaged poly water tank can be repaired at a fraction of the replacement cost for a new water tank. A new tank has the expense of disconnecting the tank from the water supply, removing the tank and discarding the old tank in the most appropriate, environmentally responsible way. Your new poly rain water tank must then be installed and reconnected so the whole exercise can be very expensive. No mater what type, size or shape your water tank it is, we can repair them all, big, small, round, slimline because being made from Polythene they are repairable.
Fix a tank are a family owned and operated business offering great customer service with attention to detail guaranteed. We take great pride in the work we perform and aim to exceed our customer's expectations. We can regularly check and maintain your tank, therefore ensuring any potential flaw or damage is attended to before it becomes a more serious issue.
Fix a tank operates throughout the greater Gympie region, Cooloola Cove, Tin Can Bay, the Sunshine Coast region, Rainbow Beach and the Wide Bay district.
You can contact us for any poly tank repairs on our CONTACT US page or phone us on 0412 527 434